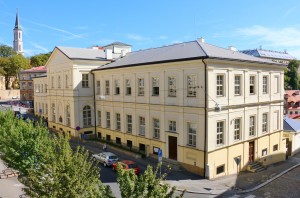 The Institute of Scientific Information of the First Faculty of Medicine of Charles University and General University Hospital in Prague (the ISI 1st FM CU and GUH) is a joint facility of both institutions. The ISI provides services for the staff of the 1st FM (mainly members of the academic staff and researchers), for students of all accredited fields of study at the 1st FM, for the GUH staff, students and staff of other CU faculties, specialized institutions, and professional pubic.
The ISI is not the only institution located in the building U Nemocnice 4, which was reconstructed in 2009: the Institute for History of Medicine and Foreign Languages has its residence here as well. Moreover, you can find a spacious computer lab of the Computer Technology Centre of the 1st FM here, a large auditorium, and several lecture rooms, operated by the Student Department of the Dean's Office. Students may use a daily room, where they can purchase refreshments while studying in groups.
The core services that the ISI provides for students are carried out by the library: loan service in the basement and study room on the first floor of the building. The ISI offers its registered users access to not only textbooks in the traditional paper form, but also numerous e-resources – textbooks, monographic publications, journals, as well as full-text, bibliographic, and factual databases.
Department of publication activity evaluation and registration sets the methodology for how to collect data on published outputs from the 1st FM and GUH staff in the rectorate register of outputs (OBD). The department then supervises the process and subsequently reports the collected data to higher levels of the CU hierarchy. The department's agenda includes also citation indexes, which together with the publications themselves constitute the main source for research evaluation of the faculty. The results are subsequently made public in the faculty's annual report (section Bibliography).
Department of referral services and of administration of electronic resources offers referral services and support as well as access to e-resources of the 1st FM CU and GUH – or to e-resources of the whole university. It provides specialized reference-enquiries services and organizes seminars to further develop information education of our users.
Department of video and photo documentation creates videos for lectures and seminars and takes part in making new e-learning presentations.
Department of historic library collection and digitalization of documents processes the oldest part of the library collection, digitizes selected items and makes them accessible on-line via the faculty's digital library.
We are constantly working on improving our services, so that we keep up with the changing user demands and with the rapid development of information sources and services. Thus, we closely cooperate both with the CU Central Library and the National Medical Library.