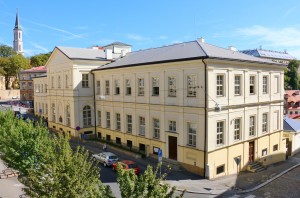 Since 2009, Institute of Scientific Information (ISI, ÚVI in Czech) of the First Faculty of Medicine of Charles University (1st FM CU) and General University Hospital (GUH) has been located in the newly reconstructed building at U Nemocnice 4, Prague 2. The library is one of the busiest parts of the building, offering many services to registered users (students, lecturers, doctors, and general public). Registration and Loan Services are the core services, lending monographs, magazines, textbooks and academic degree works to the registered users; moreover, there are External Loan Services which make it possible to borrow selected documents from without the library premises. One month is the usual loan period, though the loan period on the documents may be extended to four months. The documents may be reserved, and their loan period may be extended via 1st FM CU catalogue. The library users also utilize other services available at the library such as printing, copying and basic reference services offered by the library staff (catalogue search, basic steps of working with Student Information System, etc.) In addition, ISI library has computers with internet connection. Four computers are located in the study hall, three computers are located in the Registration and Loan site, and 25 computers are designated for instruction in an individual learning lab. The library also provides interlibrary loan services (MVS) and international interlibrary loans services (MMVS).
Reference and Electronic Resource Department forms another important part of ISI.  The service offers access to electronic information resources (databases, e-magazines, e-books). These resources are subscription-based, paid either 1st FM CU or paid in part by 1st FM CU and in part by CU, inter-university and other consortia. 1st FM CU users have either direct access to electronic resources (via IP address of 1st FM CU) or remote access (via Central Authentication Service from GUH, home or other CU Faculties). The section offers so-called "navigation services" that help users navigate the faculty and university in information resources. Retrieval services are yet another service that the section offers. 1st FM CU users receive service free-of-charge, while general public is charged CZK 200/hour (upon their registration with SIS Library). Students are offered methodical aid by retrieval specialists. The section organizes information seminars on e-resources (including trial access) and organizes lectures by international and local experts on licensed databases, and e-magazine and e-book collections.
The section of Evidence of Publication Activities and Student Work Assessment is an indelible part of 1st FM CU and GUH, collecting, processing, and evidencing publication activities of 1st FM CU and GUH employees and students. Records concerning academic and scientific work of 1st FM CU employees are processed and stored in PBD (Personal Bibliography Database); via Central Library of CU, the records are then supplied upon the applicants' request to financial aid institutions (government departments, Grant Agency of the Czech Republic, Technology Agency of the Czech Republic, and Academy of Science of the Czech Republic). These institutions then send their records to the so-called Registry of Information on Results (RIV). The results of 1st FM CU employees are provided to funders via PBD who send those to the RIV.  The Czech Republic governmental body, Council for Research, Development and Innovation, assesses the application results on the basis of which funding is received by research institutions. The section also collects citing instances which are used for internal assessment of departments and individuals together with their scientific research record. The assessment is conducted in accordance with the regulations of 1st FM CU Board of Science. The evaluation results are published regularly in the yearly Faculty Report. In addition to collecting the latest data on research, experimental development and innovations, citation instances, and, as the case may be, other activities, the section organizes seminars and offers group and individual consultation.
The ISI also offers media services and support of the photography- and video-related activities of 1st FM CU. For lectures and instruction, the section prepares video programs and digitalizes older instruction material; the section also helps generate e-learning materials; for English-speaking students, the section records and processes audio materials in English.
For the last 20 years, ISI has also engaged in instruction of undergraduate and continuing magisterial studies students. Skills such as how to actively use information resources both for study and for course and seminar papers, theses, and dissertations, form the core of the course.  At the beginning of their studies, the students are familiarized with the basics of the library-information activities and services, and with the basic terminology of the library-information field. The students then learn specialized communication skills such as independent information search, processing, and use. To a large degree, the instruction complements undergraduate and graduate seminars that are taught at 1st FM CU within the framework of individual program accreditation. Upon finishing the prerequisite course, non-medical undergraduates will have been familiarized with the basic forms of written and verbal academic communication; they will know how to research, process and cite sources for their final papers and degree theses. The non-medical magisterial students deepen their basic user skills, while instruction focuses on particular areas of the students' information support. In addition to the above-given activities, ISI instructors also take part at lecturing at the general medicine doctoral studies programs. Their courses focus on specialized science-related communication, work with electronic resources as regards citation, references and citation managers, and citing of works. The doctoral students also become familiar with the bibliometric and scientometric methods of evaluation of publication activities.